Halloween, perhaps my favorite holiday of the year, is right around the corner. Perhaps it's my favorite because it's connected in my mind with the changing of the seasons, vibrant fall leaves, crisp cool nights and getting together with friends. Not to mention getting to dress up in costumes! I'm quite the costume snob in that I really dislike all of those pre-fab plasticky store bought types. And don't even get me started at how overly-sexualized all Halloween costumes have become, even for children. If you want to dress up as a nurse, it has to be a sexy nurse! A
sexy
pirate! A
sexy
fairy! A
sexy
witch! Ugh, gross. I've always enjoyed putting together my own with bits and pieces from thrift stores, using a little sewing and old fashioned ingenuity to come up with an original costume. In the past I've been everything from an Edward Gorey character to Strawberry Shortcake (and no, not a sexy Strawberry Shortcake!). Sadly, I think the days that I'm willing to go out in full hair and makeup are over. This year I'm taking it a bit easy and simply raiding my own closet to come up with a costume. My boyfriend and I knew we wanted to go as a couple, but who? Travis Bickle and Iris? Johnny and June? Leon and Mathilda? I decided to let a trip to the thrift store decide for me. When I ran across a perfect three piece grey pinstripe suit in just Tom's size, I knew we'd have to go as Bonnie and Clyde. We'll be sure to snap some photos for you!
In the spirit of Halloween, I was researching (read: trolling through Flickr) to find vintage costume photos to post. I couldn't decide whether to go in the direction of über-creepy kid costumes or adorable Hollywood starlets. Hmm. Decisions, decisions. Let's do a bit of both, shall we?
Back before icky chain stores started pumping out pre-fab costumes of all the latest super heroes and Disney princesses, kids used whatever they could find to dress up as witches, goblins, hobos and clowns. It certainly made for a much creepier Halloween! Let's just say if any of these kids ring my doorbell on Halloween I might not open it. Yikes!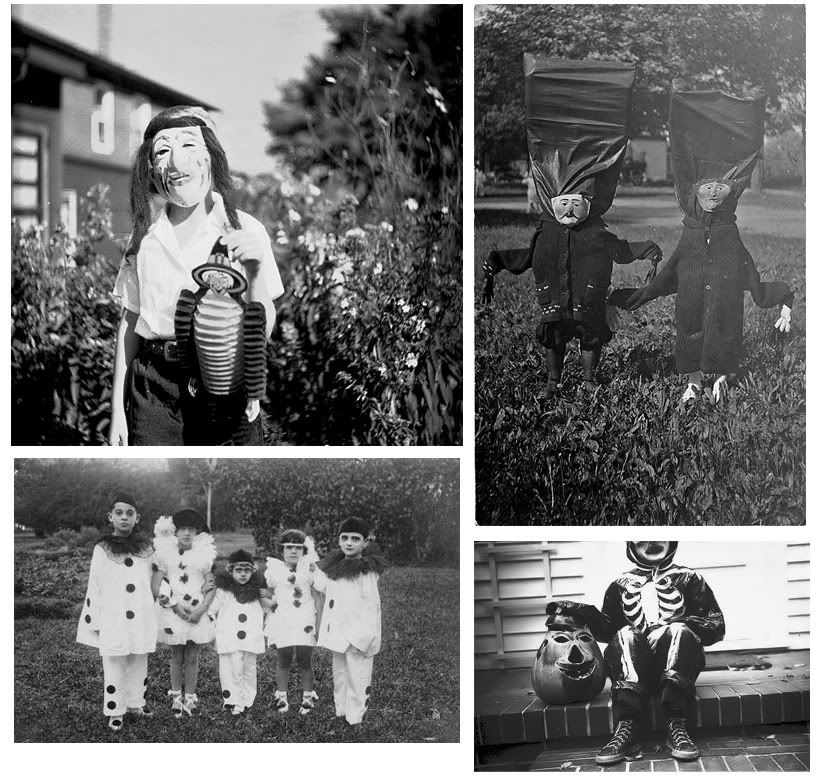 On the complete opposite end of the spectrum you have pretty Hollywood starlets doing their best stage-lit renditions of Halloween jesters, frisky felines and swashbucklers. Pretty, sure, but not nearly scary enough for me!